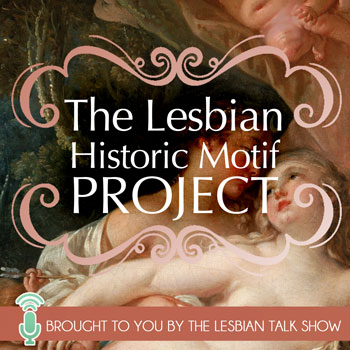 On the Shelf January 2018
The Lesbian Historic Motif Podcast - Episode 18a
Your monthly update on what the Lesbian Historic Motif Project has been doing.
In this episode we talk about
The call for submissions for the new audio short story segment. See here for details.
Recent and upcoming publications covered on the blog
Announcing this month's author guest, Kathleen Knowles
Ask Sappho: Nina, from The Lesbian Review facebook group, asks "Can anyone recommend older literature with subtle (or not so subtle) sapphic undertones? I just read Cousin Bette and really enjoyed the little lesbian romance going on between Valerie and Bette. Apparently the Victorian era had lots of these covert lesbian romance narratives, and I need more!"
Books Cited
Literary Studies
Castle, Terry (ed). 2003. The Literature of Lesbianism: A Historical Anthology from Ariosto to Stonewall.Columbia University Press, New York. ISBN 0-231-12510-0 (Amazon)
Donoghue, Emma. 2010. Inseparable: Desire Between Women in Literature. Alfred A. Knopf, New York. ISBN 978-0-307-27094-8 (Amazon)
Faderman, Lillian. 1981.  Surpassing the Love of Men. William Morrow and Company, Inc., New York. ISBN 0-688-00396-6 (Amazon)
Faderman, Lillian (ed). 1994. Chloe Plus Olivia: An Anthology of Lesbian and Bisexual Literature from the 17th Century to the Present. Viking. ISBN 978-0-670-84638-4 (Amazon)
Foster, Jeannette. 1985. Sex Variant Women in Literature. The Naiad Press. ISBN 0-930044-65-7 Third edition of the original 1956 publication. (Amazon)
Decadent Novels
de Balzac, Honoré. 1846. Cousin Bette. (ebook) (audio book)
de Balzac, Honoré. 1833. The Girl with the Golden Eyes. (ebook) (audio book)
Gautier, Théophile. 1835. Mademoiselle de Maupin. (ebook)
LeFanu, Sheridan. 1872. Carmilla. (ebook) (audio book)
Zola, Emile. 1880. Nana. (ebook)
Novels of Romantic Friendship
Converse, Florence. 1897. Diana Victrix. (ebook)
James, Henry. 1886. The Bostonians. (ebook vol 1, vol 2) (audio book) (movie)
Linton, Eliza Lynn. 1880. The Rebel of the Family. (ebook)
Scott, Sarah. 1762. A Description of Millennium Hall. (ebook)
More info
The Lesbian Historic Motif Project lives at: http://alpennia.com/lhmp
You can follow the blog on my website or subscribe to the RSS feed
If you have questions or comments about the LHMP or these podcasts, send them to: contact@alpennia.com
A transcript of this episode can be found here.