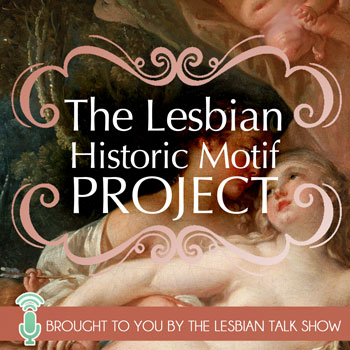 The Lesbian Historic Motif Podcast: Episode 15a - On the Shelf 
Your monthly update on what the Lesbian Historic Motif Project has been doing. 
In this episode we talk about 
A summary of the publications covered in the blog in August 

Books on the queer history of Boston and on the concept of the Boston Marriage in modern psychology 
Medieval penitential manuals that address same-sex relations 
Works on sexuality and same-sex relations in medieval Europe 

What's coming up in the blog 

More sources on medieval and pre-modern Europe 

This month's author guest: Caren Werlinger 
Ask Sappho 

Where did I get the music that introduces and closes the podcast? 
What did people think about queens who had same-sex relations? Did it affect what the common people and the people of the court thought of them? 
More info 
The Lesbian Historic Motif Project lives here 
You can follow the blog on my website or subscribe to the RSS feed 
This topic is discussed in one or more entries of the Lesbian Historic Motif Project including the following: 
Donoghue, Emma. 1995. Passions Between Women: British Lesbian Culture 1668-1801. Harper Perennial, New York. ISBN 0-06-017261-4 
Hutcheson, Gregory S. "Leonor López de Córdoba and the Configuration of Female-Female Desire" in Same Sex Love and Desire Among Women in the Middle Ages (ed. by Francesca Canadé Sautman & Pamela Sheingorn), Palgrave, New York, 2001. 
Lanser, Susan S. 2014. The Sexuality of History: Modernity and the Sapphic, 1565-1830. University of Chicago Press, Chicago. ISBN 978-0-226-18773-0 
Merrick, Jeffrey & Bryant T. Ragan, Jr. 2001. Homosexuality in Early Modern France: A Documentary Collection. Oxford University Press, New York. ISBN 0-19-510257-6 
Velasco, Sherry. 2011. Lesbians in Early Modern Spain. Vanderbilt University Press, Nashville. ISBN 978-0-8265-1750-0 (http://alpennia.com/lhmp/publication/4949)
If you have questions or comments about the LHMP or these podcasts, send them to: contact@alpennia.com
A transcript of this podcast is available here.