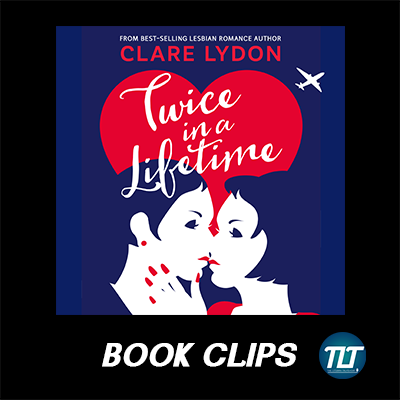 Twice In A Lifetime by Clare Lydon
Book Clips 
Welcome to Book Clips, the mini podcast where authors and narrators give you a taste of a book with a short snippet. 
In this episode we hear the first chapter of the audiobook for Twice In A Lifetime by Clare Lydon narrated by TJ Richards
Synopsis 
Once bitten, twice shy?
When her first love walks back into her life, Harriet Locke is thrown - because Sally McCall still looks as gorgeous as ever.
The trouble is, Sally doesn't trust Harriet, and with good reason: she hasn't forgotten the past.
Sally loved her once, but 17 years later, is that still the case? And if it is, there's just the small matter of living in different states, as well as convincing Sally she's worth taking a chance on again.
Will Harriet and Sally be lucky enough to find love twice in a lifetime?
From the best-selling author of London Calling and Nothing To Lose comes a witty & wondrous story of second-chance romance!
Get This Book On Amazon -> https://amzn.to/2nVrWeA
(link works for Amazon US, UK, Germany, and Canada) 
Get This Book On Amazon UK -> https://amzn.to/31mh0Ea
Love What We Do?
Become a Patron. You will get exclusive content and be helping us grow.
Clare Lydon Online
Website https://www.clarelydon.co.uk/
Facebook https://www.facebook.com/clare.lydon/
Twitter https://twitter.com/clarelydon
Amazon Author Profile https://amzn.to/2ISfAed
Contact The Lesbian Talk Show
You can find all our Book Clips episodes here 
Authors
Want to feature your novel on Book Clips? Check out more here