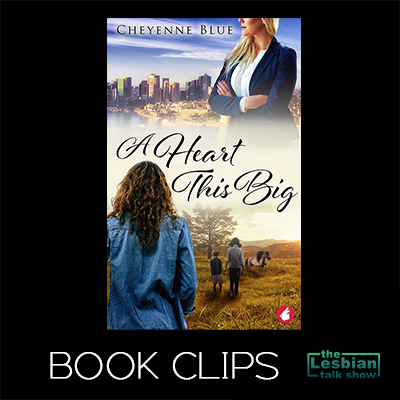 A Heart This Big by Cheyenne Blue
Book Clips 
Welcome to Book Clips, the mini podcast where authors and narrators give you a taste of a book with a short snippet. 
In this episode we hear a reading from the novel A Heart This Big by Cheyenne Blue
Synopsis 
Australian country girl Nina Pellegrini runs a program for city kids to experience a taste of rural life at Banksia Farm. But when a child is hurt and a lawsuit threatens, Nina is determined to find the best legal assistance to help her save the farm.
Enter high-flying lawyer Leigh Willoughby, whose city world is far from the farm's chaotic mix of kids and animals. She certainly doesn't have time for small cases that don't pay or farm visits that wreck her cool—and her clothes.
Still, the warm-hearted Nina and her challenging, twelve-year-old daughter, Phoebe, are awfully hard to say no to. What on earth has she gotten herself into?
A captivating opposites-attract lesbian romance about a city woman discovering her country heart.
Get This Book Here -> https://www.ylva-publishing.com/product/a-heart-this-big-by-cheyenne-blue/
Love What We Do?
Become a Patron. You will get exclusive content and be helping us grow.
Cheyenne Blue Online
Website: https://cheyenneblue.com/
Facebook: https://www.facebook.com/CheyenneBlueAuthor/
Twitter:  https://twitter.com/iamcheyenneblue
Contact The Lesbian Talk Show
You can find all our Book Clips episodes here 
Authors
Want to feature your novel on Book Clips? Check out more here