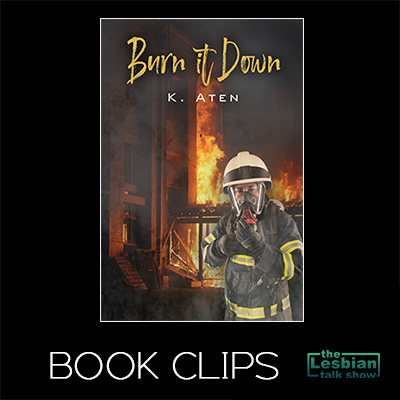 Burn It Down by K. Aten
Book Clips 
Welcome to Book Clips, the mini podcast where authors and narrators give you a taste of a book with a short snippet. 
In this episode we heard reading from Burn It Down by K. Aten
Synopsis 
Ash Hayes was failed by the system at the tender age of sixteen and suffered an addiction. As a result she lives her life weighed down by the guilt of her past. To atone for childhood misdeeds, Ash trained as a paramedic after high school and eventually became a firefighter with the Detroit fire department, along with her childhood best friend Derek. Friend, confidant, brother, he has been her light in an otherwise dark life. When tragedy strikes on the job, injury and forced leave from the department are the least of her concerns. Suffering from even more guilt and depression after the loss of her two closest friends Ash is set adrift in a sea of pain.
When Mia Thomas buys the house next door, Ash finds friendship in the most unlikely of places. It's Mia's nature to help and to heal. Many would say she has a knack for finding the broken ones and leading them into the light. But Ash's secret still lives deep inside her. Before the firefighter can even think of a future, she has to amend her past. Like the phoenix of legend, Ash has to burn her fears to the ground before she can be reborn.
Get This Book On Amazon here -> https://amzn.to/2HgZGtr
(link works for Amazon US, Germany, and Canada) 
Get This Book On Amazon UK -> https://amzn.to/2Vo4y3K
Love What We Do?
Become a Patron. You will get exclusive content and be helping us grow.
Check out our review of this book on The Lesbian Review
K Aten Online
Website: www.katen-author.com/
Facebook: https://www.facebook.com/katenauthor/
Twitter: https://twitter.com/wordnrd68 
Contact The Lesbian Talk Show
You can find all our Book Clips episodes here 
Authors
Want to feature your novel on Book Clips? Check out more here