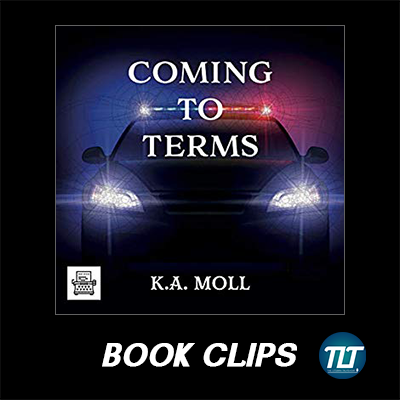 Coming To Terms by KA Moll
Book Clips 
Welcome to Book Clips, the mini podcast where authors and narrators give you a taste of a book with a short snippet. 
In this episode we hear the an excerpt from the audiobook for Coming To Terms by KA Moll narrated by Emily Beresford
Synopsis 
Coming to Terms is a love story - and so much more. It's a story of the impact of sexual abuse and addiction. It's a story of the hunt for a serial rapist turned murderer. Mainly though, it's a story of Sawyer's journey to forgive - another and herself.
Sawyer James is a cop. It's who she is and all she ever wanted to be. The job is all she has. Sawyer's alone, not necessarily because she wants to be, but because horrors in her past have left her drifting in seething waters. To move forward into a fulfilling relationship, Sawyer must come to terms.
Sage Carson is a clinical social worker. She's divorced and alone. Alone is definitely preferable to being married. At almost 40, she comes to realize that her marital problems weren't due to a lack of sexual desire, but rather, her lack of sexual desire for a man. Sage's attraction to Sawyer is an awakening. To move forward, to not spend her life alone, Sage must come to terms - with her own sexuality and with Sawyer.
In their struggle - to love - to forgive - to survive - Sage and Sawyer risk everything.
But is everything enough?
Get This Book On Amazon -> https://amzn.to/2POay72
(link works for Amazon US, UK, Germany, and Canada) 
Get This Book On Amazon UK -> https://amzn.to/2POWgmI
Love What We Do?
Become a Patron. You will get exclusive content and be helping us grow. https://www.patreon.com/TheLesbianTalkShow
KA Moll Online
Website https://www.kamoll.com/
Facebook https://www.facebook.com/kamollwrites/
Twitter https://twitter.com/ka_moll    
Contact The Lesbian Talk Show
You can find all our Book Clips episodes here 
Authors
Want to feature your novel on Book Clips? Check out more here www.sheenalemosebersohn.com/book-clip/