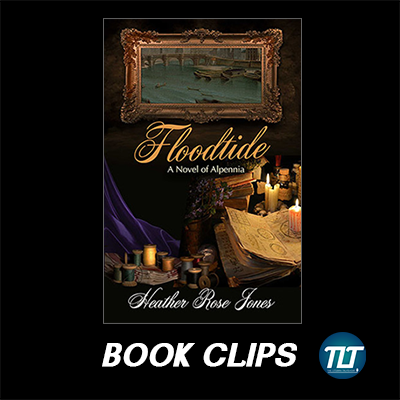 Floodtide by Heather Rose Jones
Book Clips 
Welcome to Book Clips, the mini podcast where authors and narrators give you a taste of a book with a short snippet. 
In this episode we hear an author reading from Floodtide by Heather Rose Jones
Synopsis 
The streets are a perilous place for a young laundry maid dismissed without a character for indecent acts. Roz knew the end of the path for a country girl alone in the city of Rotenek. A desperate escape in the night brings her to the doorstep of Dominique the dressmaker and the hope of a second chance beyond what she could have imagined. Roz's apprenticeship with the needle, under the patronage of the royal thaumaturgist, wasn't supposed to include learning magic, but Celeste, the dressmaker's daughter, draws Roz into the mysterious world of the charm-wives. When floodwaters and fever sweep through the lower city, Celeste's magical charms could bring hope and healing to the forgotten poor of Rotenek, but only if Roz can claim the help of some unlikely allies.
Set in the magical early 19th century world of Alpennia, Floodtide tells an independent tale that interweaves with the adventures.
A stand-alone book in the Alpennia series (Alpennia #4)
Get This Book On Amazon - https://amzn.to/2XwReNw 
(link works for Amazon US, UK, Germany, and Canada) 
Get This Book On Amazon UK - https://amzn.to/2KPPTMH 
Love What We Do?
Become a Patron. You will get exclusive content and be helping us grow.
Heather Rose Jones Online
Website: https://www.alpennia.com/
Facebook: https://www.facebook.com/heatherrosejones
Twitter: https://twitter.com/heatherosejones
Contact The Lesbian Talk Show
You can find all our Book Clips episodes here 
Authors
Want to feature your novel on Book Clips? Check out more here