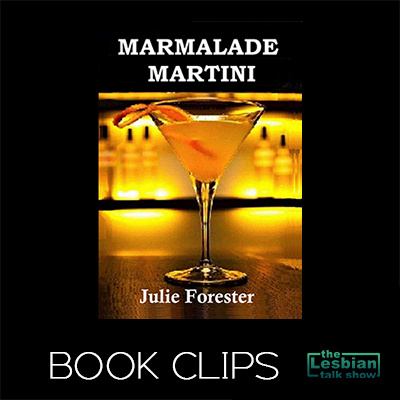 Marmalade Martini by Julie Forester
Book Clips 
Welcome to Book Clips, the mini podcast where authors and narrators give you a taste of a book with a short snippet. 
In this episode we hear a reading from Marmalade Martini by Julie Forester.
Synopsis 
'You won't believe what happened last night…'
For Jamie Barker, London life is one long cocktail of wealthy clients, after-hours bars and one-night flings with all the wrong women. Who cares, as long as it keeps her best friend off her back about commitment, right?
But one night, she drops her keys: a simple slip that sets off a chain reaction of discoveries, misunderstandings, hope and heartache. As the dark secrets of Jamie's past begin to catch up with her, she finds out that loyalty can be deceptive, and true love might be within her sights – if she can only work out where to look.
Get This Book On Amazon here -> https://amzn.to/2RnP4MN
(link works for Amazon US, UK, Germany, and Canada) 
Get This Book On Amazon UK -> https://amzn.to/2InNasE
Love What We Do?
Become a Patron. You will get exclusive content and be helping us grow.
Julie Forester Online
Website: https://julieforesterbooks.simdif.com/
Facebook: https://m.facebook.com/groups/2162176277342712/#_=_
Twitter:  https://twitter.com/julieforester1
Contact The Lesbian Talk Show
You can find all our Book Clips episodes here 
Authors
Want to feature your novel on Book Clips? Check out more here