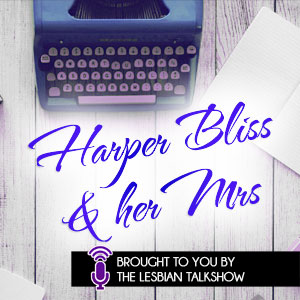 New Style For The Podcast  
Harper Bliss And Her Mrs 
In this episode, Harper Bliss and Her Mrs (Caroline) discuss the new podcast style they will be doing going forward. They also talk about the very lesbian life they lead - including adopting a cat. 
Email questions to HarperBliss@TheLesbianTalkShow.com and they will either answer them on the show or on their blog.
Sign Up for the My LesFic newsletter and get weekly bargains on lesbian novels. This is a fantastic service brought to you by The Bliss Duo 
Books On Writing That Harper Bliss Recommends  
Popular blogger Cal Newport reveals the new key to achieving success and true meaning in professional life: the ability to master distraction.  
Many modern knowledge workers now spend most of their brain power battling distraction and interruption, whether because of the incessant pinging of devices, noisy open-plan offices or the difficulty of deciding what deserves their attention the most. When Cal Newport coined the term deep work on his popular blog, Study Hacks, in 2012, he found the concept quickly hit a nerve. Most of us, after all, are excruciatingly familiar with shallow work instead - distractedly skimming the surface of our workload and never getting to the important part. Newport began exploring the methods and mind-set that foster a practice of distraction-free productivity at work, and now, in Deep Work, he shows how anyone can achieve this elusive state. 
Through revealing portraits of both historical and modern-day thinkers, academics and leaders in the fields of technology, science and culture, and their deep work habits, Newport shares an inspiring collection of tools to wring every last drop of value out of your intellectual capacity. He explains why mastering this shift in work practices is crucial for anyone who intends to stay ahead in a complex information economy and how to systematically train the mind to focus. Put simply: developing and cultivating a deep work practice is one of the best decisions we can make in an increasingly distracted world. 
There is a reason why Stephen King is one of the bestselling writers in the world, ever. Described in the Guardian as 'the most remarkable storyteller in modern American literature', Stephen King writes books that draw you in and are impossible to put down. 
Part memoir, part master class by one of the bestselling authors of all time, this superb volume is a revealing and practical view of the writer's craft, comprising the basic tools of the trade every writer must have. 
King's advice is grounded in the vivid memories from childhood through his emergence as a writer, from his struggling early career to his widely reported, near-fatal accident in 1999 - and how the inextricable link between writing and living spurred his recovery. 
It's the best time on Earth to be a writer 
More writers are making money today than at any other time in history. For centuries few have been able to support themselves from the quill or the keyboard alone.  
Not anymore. With the rise of ebooks and indie publishing there are now more opportunities than ever for writers to generate substantial income from their work. And there is still a traditional publishing industry that needs new talent to keep growing.  
In How to Make a Living as a Writer, you'll learn the secrets of writing for profit and increasing your chances of making a living wage from your work. Here are some of the subjects covered: 
- The 7 Secrets of Writing Success 
- The 8 Essentials of Your Writing Business 
- How to Reach Your Goals 
- Keys to a Winning System 
- How to Stay Relentless 
- Unlocking Your Creativity 
- How to Write More, Faster 
- Comparing Traditional and Self-Publishing  
- How to Go Traditional 
- How to Go Indie 
- How to Form Multiple Streams of Writing Income 
- How to Write a Novel in a Month 
- How to Choose Non-Fiction Subjects 
- How to Keep a Positive Mental Attitude 
- Resources for Further Study 
And much more, all to help you write what you love and earn what you're worth.  
James Scott Bell has made a living as a writer for nearly two decades, and shares with you everything he knows about the best practices for turning your writing dream into a reality. 
Show, don't tell is probably the single most important piece of advice given to writers. But many writers struggle to understand this powerful principle or have difficulty applying it to their own work. Even experienced authors sometimes don't grasp the finer nuances of showing and telling. 
In this book, Sandra Gerth draws on her experience as an editor and a best-selling author to show you how to show and tell you when to tell. 
Each chapter includes concrete examples and exercises that will hone your writing skills. 
Whether you're a novice writer working on your first story or an established author who has already learned the basics of showing and telling, this book will help you to: 
- Grasp the difference between showing and telling. 
- Understand why showing is such a powerful tool. 
- Spot telling in your own manuscript. 
- Fix bland passages and turn them into compelling scenes. 
- Keep from telling what you have already shown. 
- Avoid the three danger areas of telling. 
- Describe your characters and your setting in interesting ways. 
- Put powerful emotions into your writing. 
- Incorporate backstory into your novel without resorting to telling. 
- Recognize telling in dialogue. 
- Avoid overshowing and swamping your readers with too many details. 
- Learn when telling is actually a good thing. 
- Immerse your readers into your story and keep them captivated from beginning to end. 
You can find more on Harper Bliss And Her Mrs on TheLesbianTalkShow.com