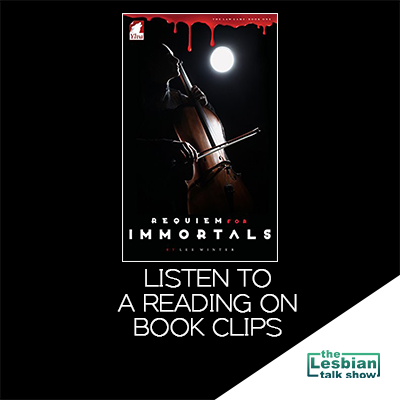 Requiem For Immortals by Lee Winter
Book Clips 
Welcome to Book Clips, the mini podcast where authors and narrators give you a taste of a book with a short snippet. 
In this episode we hear a reading from Requiem For Immortals by Lee Winter by the author
Synopsis 
Professional cellist Natalya Tsvetnenko moves seamlessly among the elite where she fills the souls of symphony patrons with beauty even as she takes the lives of the corrupt of Australia's ruthless underworld. The cold, exacting assassin is hired to kill a woman who seems so innocent that Natalya can't understand why anyone would want her dead. As she gets to know her target, she can't work out why she even cares.
(link works for Amazon US, UK and Canada) 
Love What We Do?
Become a Patron. You will get exclusive content and be helping us grow.
Check out our review of this book on The Lesbian Review
Lee Winter Online
Website: www.leewinterauthor.com/ 
Facebook: https://www.facebook.com/LeeWinterOz 
Twitter: https://twitter.com/leewinteroz  
Contact The Lesbian Talk Show
You can find all our Book Clips episodes here 
Authors
Want to feature your novel on Book Clips? Check out more here