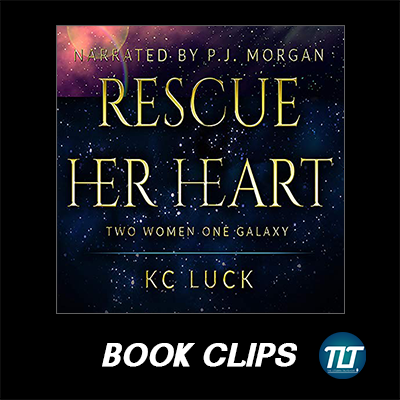 Rescue Her Heart by KC Luck
Book Clips 
Welcome to Book Clips, the mini podcast where authors and narrators give you a taste of a book with a short snippet. 
In this episode we hear the first chapter of the audiobook for Rescue Her Heart by KC Luck narrated by PJ Morgan
Synopsis 
Two women. One galaxy.
As a decorated Space Ranger in the 8th Galaxy, Captain Natalie (Nat) Reynolds has an exciting, albeit lonely, life. Yet, when Nat answers a distress call from a craft in trouble on a nearby planet, it has the possibility of changing the trajectory of her life forever.
Catherine Porter is down on her luck in the worst way. Evicted, almost penniless, she worries all hope is lost until a charismatic stranger flies into her life. Inexplicably drawn to the one woman who can possibly save her, Catherine must face feelings she never considered.
Will their stars align and lead them to a happily ever after? Or will their differences tear their hearts apart?
Get This Book On Amazon -> https://amzn.to/33CTsg0
(link works for Amazon US, UK, Germany, and Canada) 
Get This Book On Amazon UK -> https://amzn.to/2nTl1CB
Love What We Do?
Become a Patron. You will get exclusive content and be helping us grow.
KC Luck Online
Website http://www.kc-luck.com
Facebook https://www.facebook.com/kc.luckauthor.92
Twitter https://twitter.com/kc_luck_author  
Amazon Author Page https://amzn.to/2OSkrzU
Contact The Lesbian Talk Show
You can find all our Book Clips episodes here 
Authors
Want to feature your novel on Book Clips? Check out more here