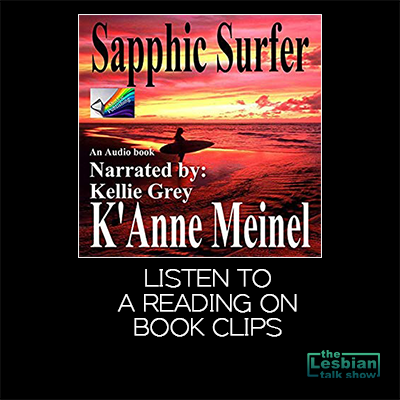 Sapphic Surfer by K'Anne Meinel
Book Clips 
Welcome to Book Clips, the mini podcast where authors and narrators give you a taste of a book with a short snippet. 
In this episode we hear the first chapter of the audiobook for Sapphic Surfer by K'Anne Meinel narrated by Amelia Patricks.
Synopsis 
Can a virgin such as Ashley cope with the feelings that are building inside her for the famous surfer? Can a Midwestern girl with all the morals and hang-ups ingrained in her overcome them to actually enter into a Sapphic romance with this woman? 
Ashley is a Midwestern girl who is enjoying "the life" in Southern California. She is living her dream. She learns to surf, a lifelong dream that wasn't possible in Illinois. Now she meets professional surfer Willow Samuels, who becomes a good friend to her. How good a friend isn't really apparent until she realizes there is a mutual attraction.   
Ashley is conflicted when she realizes she is having feelings for her famous friend Willow. When Willow makes a pass at her, she realizes her friend is gay and attracted to her. How can she overcome a lifetime of ethics and values that just might destroy the happiness Willow offers her?
Get This Book On Amazon here -> https://amzn.to/2SugCzD
(link works for Amazon US, UK, Germany, Italy and Canada) 
Love What We Do?
Become a Patron. You will get exclusive content and be helping us grow.
K'Anne Meinel's Website: https://www.kannemeinel.com/index.html
Contact The Lesbian Talk Show
You can find all our Book Clips episodes here 
Authors
Want to feature your novel on Book Clips? Check out more here