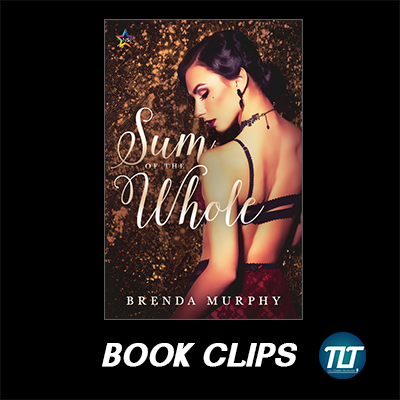 Sum Of The Whole by Brenda Murphy
Book Clips 
Welcome to Book Clips, the mini podcast where authors and narrators give you a taste of a book with a short snippet. 
In this episode we hear an excerpt from Sum Of The Whole by Brenda Murphy.
Synopsis 
Jaya Pomroy, security operative and mistress, falls desperately in love with Sarah Kerr while vacationing at Rowan House, Skye's most exclusive and secretive resort. Unwilling to become Jaya's possession, yearning for independence, Sarah refuses to leave with her and they part after a bitter fight.
Six years later they meet again. Fighting to leave her past behind, but unable to resist her attraction for Jaya, Sarah agrees to try again. Jaya has to cope with new rules and new roles. When a former client threatens to expose Sarah, Jaya risks everything to protect her.
Can their love survive in the real world filled with vengeful ex-lovers and deadly secrets?
Get This Book On Amazon -> https://amzn.to/2N1pT22
(link works for Amazon US, UK, Germany, and Canada) 
Get This Book On Amazon UK -> https://amzn.to/2q46wg2
Love What We Do?
Become a Patron. You will get exclusive content and be helping us grow. 
https://www.patreon.com/TheLesbianTalkShow
Check out our review of this book on The Lesbian Review https://www.thelesbianreview.com/sum-whole-brenda-murphy/
Brenda Murphy Online
Website: http://brendalmurphy.com
Facebook: https://www.facebook.com/brenda.murphy.75
Twitter:  https://twitter.com/BMurphySideshow
Contact The Lesbian Talk Show
You can find all our Book Clips episodes here 
Authors
Want to feature your novel on Book Clips? Check out more here 
www.sheenalemosebersohn.com/book-clip/