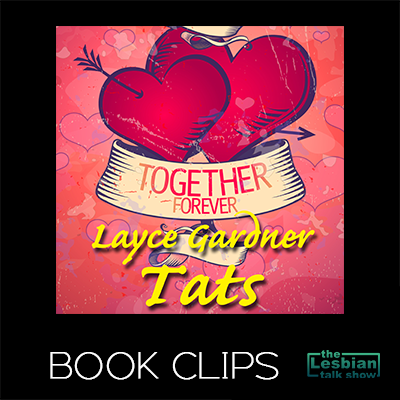 Tats by Layce Gardner
Book Clips 
Welcome to Book Clips, the mini podcast where authors and narrators give you a taste of a book with a short snippet. 
In this episode we hear the first chapter of the audiobook for Tats by Layce Gardner.
Synopsis 
Lee Hammond's girlfriend has moved on to other women. Deciding she's done the last of her now ex's laundry, Lee hops on the Harley, ripe for adventure. One thunderstorm, a brief stint as a funeral crasher, two ruined shoes and several cheerleaders later, she's still planning to run away. Better yet, she's got one of the cheerleaders along for the ride. Not just any cheerleader, either. Vivian Baxter is that cheerleader, the one that made Lee certain back in high school that she was never going to be like all the other girls. Destination? Someplace not Oklahoma. Possibilities? As many as the wide open road can offer.
Problems? None at all. Except perhaps Lee's ex, a hopping mad stripper who wants her Harley back. Vivian's feminine wiles prove invaluable in solving their transportation problem just as her own past catches up to them. And Vivian's past has two legs, a lot of henchman and a very big gun. Lee and Vivian may never get out of Oklahoma, and Oklahoma may never be the same.
Get This Book On Amazon -> https://amzn.to/31JbrR7
(link works for Amazon US, UK, Germany, and Canada) 
Get This Book On Amazon UK -> https://amzn.to/2YO11ma
Love What We Do?
Become a Patron. You will get exclusive content and be helping us grow.
Layce Gardner Online
Website: https://laycegardner.wordpress.com/
Facebook: https://www.facebook.com/people/Layce-Gardner/1040853610
Twitter:  https://twitter.com/laycegardner
Contact The Lesbian Talk Show
You can find all our Book Clips episodes here 
Authors
Want to feature your novel on Book Clips? Check out more here