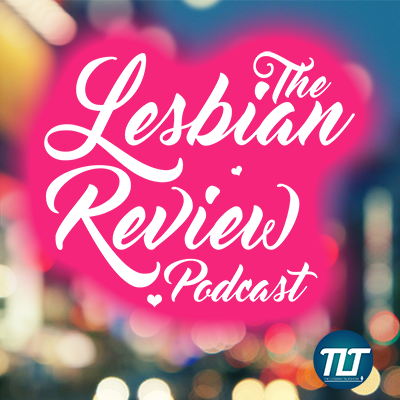 TLR's 55 Most ReRead Books
Victoria's Selection
Sheena is joined by Victoria to discuss the list that was released on TheLesbianReview.com - TLR's 55 Most Reread Books. In this episode Victoria talks about her selection of books.
All The Wrong Places by Karin Kallmaker
Publisher Bella Books
Audio No
Synopsis
Brandy Monsoon is looking for love. Since there's never a shortage of casual playmates at the tropical resort where she works as a fitness trainer, most of the time she gets it, too. If Brandy tires of the perpetually curious but primarily straight women, there's her best friend Tess for a friendly encounter - safe, with no strings. After all, they're just buddies.
When an all-lesbian tour group arrives for a week, Brandy is sure she'll be in paradise on earth. The guests include lesbian celebrity comic Celine Griffin, who has an obvious interest in an after-dinner Brandy. Celine and Brandy do find explosive pleasure together -- so why does Brandy feel as if that's no longer enough for happiness?
Get this book on Amazon
US, Canada and Germany - https://amzn.to/2DCAJGx
(All the Amazon links are affiliate links, we get a small commission when you use these links and it costs you nothing extra. We cannot see any information about you when you buy and the money we get goes towards supporting this business)
A Wish Upon A Star by Jeannie Levig
Publisher Bold Strokes Books
Audio No
Synopsis
Leslie Raymond spent the past two years wishing her life had taken a different turn. It's time for a fresh start, a move across the country, and a new set of rules to help heal her heart—no straight women, no women with kids, and no commitment. But when she meets her new neighbors, the beautiful Erica and her special needs daughter, Siena, she struggles against the pull she immediately experiences.
Erica Cooper has learned to rely only on herself. She knows most people don't stick around when the going gets tough. And when caring for child with autism, the going can get tough fast. She is content with the quiet and emotionally safe life she's constructed, but when they are befriended by their kind, playful, and—damn it—really hot new neighbor, the walls protecting her heart threaten to crumble.
So much for good intentions and firm resolutions--neither stand a chance when the stars align for love.
Get this book on Amazon
US, Canada and Germany - https://amzn.to/33FDykJ
Unexpected by Jenny Frame
Publisher Bold Strokes Books
Audio Narrated by Nicola Victoria Vincent
Synopsis
Self-made business owner Dale McGuire has always enjoyed two things in life: women and fast cars. Now in her mid-30s, she's restless and can't work out why. Then one day a 10-year-old boy turns up, claiming to be her son, and her simple ordered world turns upside down.
Rebecca Harper bears the emotional scars of her father's crimes, and now she has two rules: never let anyone get too close and never admit weakness. Thanks to an anonymous egg donor, infertility didn't stop her from having her son Jake. Now pregnant for a second time, she's horrified when Jake brings home the woman he believes is his other mother.
When distrust turns to understanding and passion, can Dale and Rebecca, two women bound by fate, make a family neither expected?
Get this book on Amazon
US, Canada and Germany - https://amzn.to/2LeZe0n
Wild by Meghan O'Brien
Publisher Bold Strokes Books
Audio Narrated by Alexandria Wilde
Synopsis
The only thing that frightens shapeshifter Selene Rhodes more than the full moon is the idea of falling in love. Selene Rhodes has lived her whole life with a terrible secret: Not only can she take the form of any animal at will, but once a month the full moon transforms her into a fierce wolf-creature without a human conscience. Managing her condition means living by a strict routine, and more importantly, abstaining from intimate relationships with human beings. Selene is convinced that love and friendship can only bring her pain.
Forensic pathologist Eve Thomas is well acquainted with the pain of romantic love. Swearing off relationships after having her heart broken by a cheating ex, Eve throws herself into her work: catching murderers. When Selene comes to her aid after an attack by a masked man in Golden Gate Park, Eve is shocked by how powerfully she is drawn to her mysterious savior. Shaken by her own feelings for Eve, Selene is even more terrified to realize she isn't even close to being the scariest monster stalking San Francisco. There is someone out in the city who is killing for pleasure, and his next target is the one woman he thinks might be able to stop him: Eve.
Get this book on Amazon
US, Canada and Germany - https://amzn.to/33J83Gf
At Her Feet by Rebekah Weatherspoon
Publisher Bold Strokes Books
Audio No
Synopsis
During a night of Web surfing for celeb gossip and masturbatory material, digital marketing producer Suzanne Kim stumbles across an intriguing thread while checking her profile on kinklife.com. Suzanne isn't exactly looking, but the request for a very specific type of submissive from the attractive mistress, Mami-P, is hard to resist. Though the two hit it off during their first online conversation, Suzanne never imagines how strong their real life attraction and compatibility will be. After a few missteps in training, trust, and communication, Suzanne finds a deep love with her mistress, Pilar.
Overworked and overstressed in her daily life, Suzanne comes to crave their relationship for the visceral escape it provides, but before they can make the ultimate commitment, someone from Suzanne's professional life threatens to disrupt their perfectly balanced bliss.
Get this book on Amazon
US, Canada and Germany - https://amzn.to/34IFcTO
Charming Memory by EL Bossert
Publisher Two Boots Publishing
Audio No
Synopsis
Jamie Jordan, a well-known actress and single mom of four-year- old Max, plans a quiet summer in her hometown of Crestwood. Her serenity is shattered when a delivery truck barrels toward Max on a wet summer morning. He is rescued at the last second by a passerby. No one knows the identity of Max's savior, who is knocked unconscious and cannot remember her name or her past.
Jamie invites the mystery woman, temporarily named Boo, into her home while Boo recovers and they search for Boo's real identity and family. As the paparazzi close in, Jamie and Boo try to manage their growing mutual attraction and track down the one name Boo remembers - María Garcia.
Can Jamie and her family trust that Boo is just an innocent hero? Is Boo married or is she available for romance? And, can Jamie and Boo resist each other long enough to find the answers?
Get this book on Amazon
US, Canada and Germany - https://amzn.to/34MjwGj
Perfect Rhythm by Jae
Publisher Ylva Publishing
Audio Narrated by Angela Dawe
Synopsis
Pop star Leontyne Blake might sing about love, but she stopped believing in it a long time ago. What women want is her image, not the real her. When her father has a stroke, she flees the spotlight and returns to her tiny Missouri hometown.
In her childhood home, she meets small-town nurse Holly Drummond, who isn't impressed by Leo's fame at all. That isn't the only thing that makes Holly different from other women. She's also asexual. For her, dating is a minefield of expectations that she has decided to avoid.
Can the tentative friendship between a burned-out pop star and a woman not interested in sex develop into something more despite their diverse expectations?
Contains mature themes.
Get this book on Amazon
US, Canada and Germany - https://amzn.to/35V1MZF
Starting From Scratch by Georgia Beers
Publisher Brisk Press
Audio Narrated by Georgia Beers
Synopsis
What happens when your life takes an unexpected turn?
What happens when you need to protect the one you love from the one you want to love?
What happens when you lose something you never knew you wanted?
Lambda and Golden Crown Literary Award-winning author Georgia Beers brings to you her long-awaited seventh novel, Starting from Scratch, a story where learning, laughing, loving, and baked goods are just a few of life's basic ingredients.
Starting from Scratch…where life is what you make it.
Get this book on Amazon
US, Canada and Germany - https://amzn.to/36uqr7Z 
The Road To Madison by Elle Spencer
Publisher Bold Strokes Books
Audio Narrated by Lori Prince
Synopsis
As the sole heir to her family's banking empire, a lot is expected of Madison Prescott. Falling in love with her childhood friend Ana Perez was not in the cards. As Madison's father puts it, "A gay daughter? Married to the maid's daughter? Running my company? Over my dead body."
By the time George Prescott dies, it's been 15 years since Madison and Ana were ripped apart by his lies. They haven't spoken since, but Madison has spent every minute waiting for this day to come. Unfortunately, it turns out time doesn't heal all wounds. Why was Madison willing to give up everything in the face of her father's threats, and why can she never tell Ana the truth about what really separated them?
Caught between a present they can't trust and a past they can't forget, Madison and Ana must decide if this is their second chance, or their final heartbreak.
Get this book on Amazon
US, Canada and Germany - https://amzn.to/2P80Zhb
And Playing The Role of Herself by KE Lane
Publisher Dog Ear Audio
Audio Narrated by Lisa Cordileone
Synopsis
Actress Caidence Harris is living her dreams after landing a leading role among the star-studded, veteran cast of Ninth Precinct, a hot new police drama shot on location in glitzy LA. Her sometimes-costar Robyn Ward is magnetic, glamorous, and devastatingly beautiful, the quintessential A-List celebrity on the fast-track to super-stardom. 
When the two meet on the set of Ninth Precinct, Caid is instantly infatuated but settles for friendship, positive that Robyn is both unavailable and uninterested. Soon Caid sees that all is not as it appears, but can she take a chance and risk her heart when the outcome is so uncertain? 
The leading ladies and the supporting cast of this debut novel by newcomer K.E Lane will charm you, entertain you, and leave you with a smile on your face.
Get this book on Amazon
US, Canada and Germany - https://amzn.to/2DGucun
Find Victoria Online
Twitter https://twitter.com/VThomasReader
Facebook https://www.facebook.com/profile.php?id=100026220321290
Victoria's favourite books on TLR https://www.thelesbianreview.com/category/book-review/highly-recommended-books/victorias-favourites/
Find the full list of TLR's 55 Most Reread Books here
About TLR
The Lesbian Review is a website dedicated to reviewing only books movies and music that we enjoy. That way you are likely to find media that you enjoy too. We rely on advertisers, affiliate link purchases and Patrons to cover costs and keep growing. So if you do buy because of this podcast then please use our links.
You can also support us by becoming a Patron for as little as $1 a month - https://www.patreon.com/TheLesbianReview